KNEE PATELLAR TENDINITIS
DESCRIPTION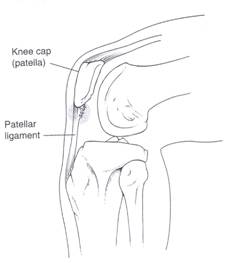 Patellar tendonitis is inflammation of the patellar tendon. The tendon attaches the knee cap to the shin bone, and critical in straightening the leg and slowing the knee down during bending or squatting. Patellar tendonitis can range from a slight inflammation and microscopic tearing of the tendon up to a complete rupture of the tendon.
Tendonitis can develop after a sudden increase in either amount or intensity of activity, or after a direct blow to the knee or patellar tendon. This is common with activities that include jumping, quick starts, kicking, running downhill. Patellar tendonitis is also common in individuals with weak quadriceps, tight hamstrings and / or flat feet.
PREVENTION
Patellar tendonitis can be prevented with quadriceps stretching and maintaining flexibility.
SYMPTOMS
Most commonly patients note anterior knee pain. Tenderness can occur just below the patella (knee cap). Pain can occur with jumping, squatting, kneeling, or when going up or down stairs.
Non-Surgical Treatment
First, rest from or modification of activities that cause symptoms is most important. Ice and anti-inflammatory medications may also be very helpful in the initial phase of treatment.
If symptoms are severe a knee immobilizer may be recommended.

Once acute symptoms have improved exercise is started to increase range of motion, flexibility of the quadriceps and hamstrings, and slow increase of strengthening exercises. All exercises should be pain free. Physical therapy can be very helpful to develop a home or gym program.
Use of a knee sleeve or patellar strap may also be helpful. Finally a slow pain-free return to all activities and sports should be possible.
SURGICAL TREATMENT
Surgery may be indicated in patients who fail to improve with non-surgical treatment or those with severe patellar tendonitis. Surgical debridement cleans out inflamed portion of the patellar tendon and if indicated the bone where the tendon inserts.
Prognosis
Most patients are able to treat patellar tendonitis with a home exercise program and possibly some physical therapy. Very few patients require surgical intervention.
REHABILITATION
STRENGHTENING EXERCISES
Start with the flexibility exercises then slowly add the strengthening exercises. Add exercises based on pain, rehabilitation should always be pain- free.
See Figs. 2 to 7.